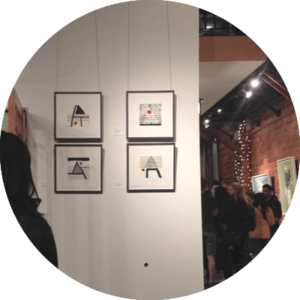 Surviving as an artist in the Bay Area is hard. We live in an extremely expensive area of the country. And particularly in Oakland, things are rapidly changing.
For the past few months, I've wanted to find a way to serve the Oakland art community during these challenging times.
Since 2011, I've worked with artists and creatives as their attorney. And the one thing I know for sure is that you'd rather spend your time creating, than digging into the nuances of what it takes to run your creative business on the up and up.
And while you might know that understanding the legal side is important, talking to a lawyer is expensive (and scary). So your questions sit unanswered. But that doesn't mean those questions go away.
To help you get answers to those nagging questions, I've decided to cultivate a place where you can be surrounded by art and get answers to your nagging questions.
Introducing…Lawyer in the Gallery
When some Saturdays, I'll be hanging out at Warehouse 416, a gallery in uptown Oakland. And you can reserve 20-minutes to pick my brain and get answers to your legal questions.
Questions like:
Do I really need to register my copyrights?
What do I do when someone copies my work?
Should I be an LLC?
What does it take to become an LLC?
Can I DIY my LLC? Or should I use a service like LegalZoom? Or do I have to hire a lawyer?
Dealing with the left-brain legal aspects of running a business has never been any fun for this right-brain, creative gal. I had gone through countless attorneys over the past several years and I'd always dreaded my interactions with them. That is until I finally connected with Kiffanie thank goodness! Working with Kiffanie has been a treat and such a relief!

She's professional, personable, and super-smart but still very approachable and down-to-earth (which is a rare combo in her line of work). She translates all the legal mumbo jumbo into plain English and she is patient with all of my questions. My mind is at ease now, knowing I can count on Kiffanie for my legal matters.

Jennifer Lee, bestselling author of The Right-Brain Business Plan
How does Lawyer in the Gallery work?
You'll select your time and pay for your session via Square Appointments
You'll arrive at Warehouse 416 (416 26th Street, Oakland) at the time you selected
To respect those after you, if you arrive late, your session will still end at the appointed time
We'll spend up to 20-minutes talking through your questions
I'll provide you with general guidance and information, but this session cannot make me your attorney
A Lawyer in the Gallery session might be right for you if…
You are an artist, illustrator, designer, writer, videographer, or other creative
You've got quick questions about copyright, trademark, contracts, or running an art or creative business on the up and up
A Lawyer in the Gallery session might be wrong for you if…
You are looking for an in-depth discussion of your particular legal situation (20-minutes isn't enough time! If that's the case, a Discovery Session might be right for you)
You are looking for information or advice on topics like your living situation, filing for bankruptcy, your immigration status, or criminal charges you are facing
Why work with me?
Hi! I'm Kiffanie, a lawyer, photographer, and fellow small business owner.
Since I was a little girl, I've loved to solve tricky problems. I'm the one that sits in the corner, absorbs everyone's thoughts, and the comes up with a solution that blends them all together. While some people would call my solutions intuitive, they are really based on listening to needs and creating a solution that meets them.
I'm also the kid that taught summer school to my siblings and whomever I could recruit from the neighborhood. So I've had years of practice at taking tough concepts and breaking them down into easy to understand chunks.
My firm focuses on serving creative business owners. I've got clients who are service providers, makers, artists, writers, and infopreneurs. My favorite projects involve some mix of copyright, trademark, contracts, and small business law. So I might be your gal if you are looking to file a trademark, review or write a contract, or need help setting up your business.

Kiffanie was so helpful. She immediately put my mind at ease and took care of everything. With just a few simple questions, she was able to draft the appropriate documents, and I had everything in order to move forward. Kiffanie made it all so easy!

Lisa Anderson Shaffer, Zelma Rose
Ready to get started?
Lawyer in the Gallery is on summer break! Leave your info below and I'll let you know when we schedule dates for the fall.
If you have any questions or run into any problems please email me at kiffanie@stahlelaw.com.
While I'm sure it goes without saying, here's a couple of caveats:
Scheduling a Lawyer in the Gallery session doesn't make me your lawyer.
The nice things said about me above isn't a promise, guarantee, warranty, or prediction about the outcome of your legal matter (this one the State Bar requires me to tell you).
Do not share confidential information with me either through the contact form or when booking your session.