Running a creative business is an exhausting endeavour. You've got to create:
social media content
blog content
email marketing content
sales page copy
client/customer work
products and services
content upgrades
and a million more things
Your to-do list never ends. You've got a million balls in the air. And your friends and family think you are crazy because you work more than you would if you had a 9-5 job.
And the list above only covers a small piece of what it takes to run your business. Believe me, I get it because I'm in the trenches with you. (You can see for yourself over at the artist's J.D.)
But those legal to-dos sit on your to-do list for months. Because the legal side of running a creative business seems like a completely foreign language.
The next step
Before we dive in any further, I want to tell you, "You rock!" Because by visiting this website, you've taken your first step to getting your legal ducks in a row.
Thinking about hiring a lawyer is scary. You might worry that it's going to cost you an arm and a leg. Or be afraid that you'll have to deal with an old guy who doesn't understand what it takes to run a creative business.
But you are ready to reach your big goals, so now it's time to take action.
And the next step involves bringing on an expert that wakes up in the morning excited to daydream about the legal nitty gritty.
Learning where your creative business stands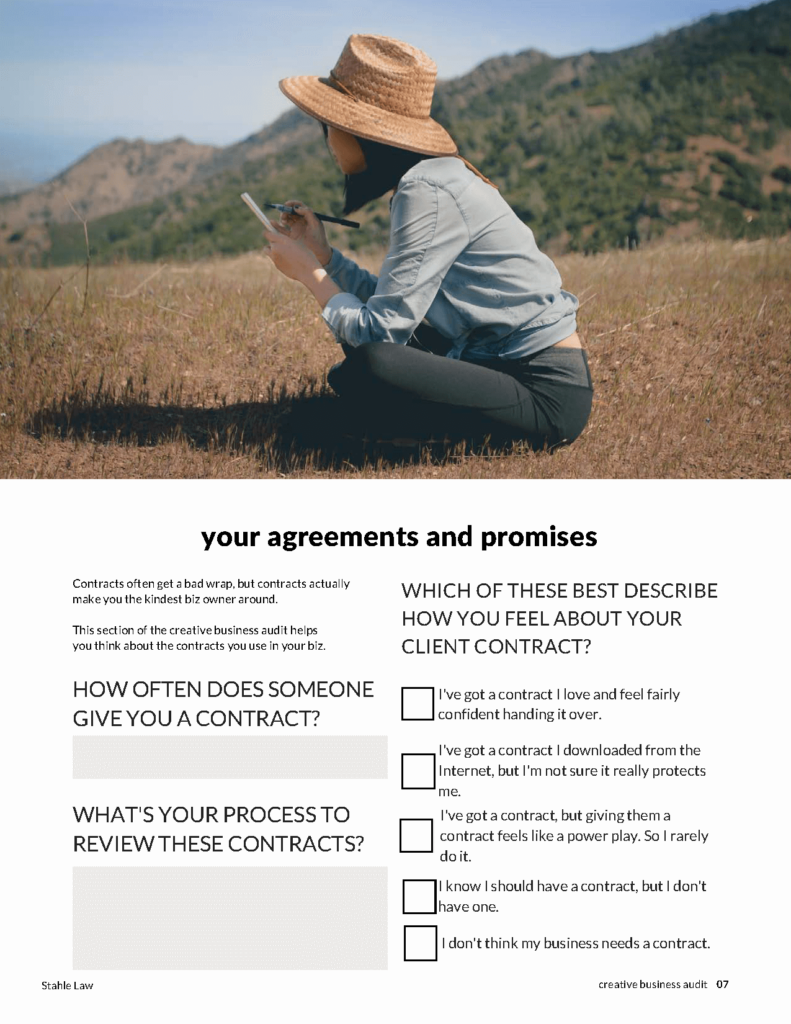 Not sure where you should focus your efforts?
Then grab the Creative Business Audit workbook!
The Creative Business Audit workbook is designed to help you conduct an audit of the most common legal parts of your business.
And to make it even easier for you, you can fill in and check off the PDF workbook electronically!
Getting to know each other
If you are ready to dive into working together, then the first step in moving forward is a Discovery Session.
This session is your opportunity to pick my brain and get all your questions answered. Our Discovery Session will happen via an audio-only call and last about an hour. (So I won't know if you are meeting me in your yoga clothes.) And it'll be recorded, so you can enjoy our conversation rather than madly scribbling notes.
You'll leave your session confident. You'll have action items that will get you closer to your version of success. And you'll know what you need to do next.
How we'll work together
I know that dealing with the legal aspects of your business can be stressful and intimidating.
But I like to do things differently.
My goal is to make the process transparent and as painless as possible. To talk to you in a language you understand, not a bunch of legalese. I want you to leave each session confident. I want to make sure you understand. I want the decisions we discuss to propel your business forward.
I'm here to serve as the bad guy, buffer, translator, therapist, or whatever role you need me in. I want you to rest assured knowing that someone is watching your back and looking out for you. I want you to spend your time creating not fretting about legal stuff.
I'll let you in on a little secret, sometimes I feel like the luckiest girl in the world. In my role as your attorney, I get insight into all your goals and dreams for your business. And so I get a vicarious thrill each time I see you reach those milestones and set bigger and bigger goals. Seeing you reach these goals propels me forward and makes the bad days totally worth it. I mean who wouldn't want to be surrounded by creative, talented, and inspiring women entrepreneurs every day?
I'm on a tight budget, how much will this cost?
Anytime you bring an expert in to help grow your business, it's going to be expensive. In my own business, I think of bringing an expert an investment. Because of that, I've got a little fund that I add money to each month, so I can work with experts I trust.
But to help you know exactly how much it will cost you to work with me, I do my part by providing services on a fixed fee basis. At the end of our Discovery Session, you'll know exactly how much it'll cost to work together. You'll get an email with the options we discussed and the flat rate associated with each option.
This is not your typical law firm
I created my own law firm because I looked around and couldn't find a place that I wanted to send my friends. I'm not a big fan of suits (although I do LOVE a good blazer). And if we meet in person, I'll probably be wearing jeans and may have ridden my trusty Peugeot, Pierre, to our appointment.
In fact, the biggest compliment I've gotten from several clients is that I'm the lawyer they actually want to meet for Happy Hour.
If you are ready to get started, I'd love to learn more about your creative business. Click here to schedule your Discovery Session. Or if you aren't ready to make the leap, you can contact me using the form below.